Welcome to the official website of Canadian human rights lawyer Richard Warman.
Latest:
1. God Bless the Irish. I'm a little concerned about a referendum on fundamental human rights, but YES vote expected in Irish gay-marriage vote. Kiss Me I'm Irish!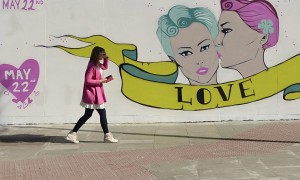 2. DAVID ICKE SETTLES LIBEL ACTION
5 March 2015
British conspiracy writer David Icke and co-defendants have paid Canadian human rights lawyer Richard Warman $210,000 CDN (117,000 GBP) in damages and legal costs to settle a libel action against them.
In 1999-2000, Warman had worked with various Jewish and anti-racism groups to notify public venues in Canada of discriminatory elements within Icke's mishmash of conspiracy theories. After being provided with material from Icke's own writings, a number of these venues withdrew permission for Icke to use their facilities in his tours.
In retaliation, Icke included false allegations in his 2001 book Children of the Matrix that Warman was seeking to suppress Icke's purported exposure of Satanic child abuse and murder.
David Icke made an out-of-court settlement on January 8th paying $90,000 CDN (50,000 GBP) on the eve of a long-delayed trial that was scheduled to begin in Toronto on February 2nd, 2015. The Court order formally discontinuing the claim was issued on 4 March 2015 thus paving the way for this announcement. Insurers for three Canadian bookstores that had refused to stop selling the book after being served with libel notices had previously settled out for $120,000 CDN (67,000 GBP). Information obtained from litigation by Icke against his former US business partner demonstrated that at least 55,000 copies of Children of the Matrix had been sold worldwide.
The settlement includes the requirement that Icke immediately cease any further distribution of Children of the Matrix and remove the defamatory material from any future editions. Warman thanked his lawyers Christine Lonsdale and Elder Marques of law firm McCarthy Tétrault – "They were absolute professionals and I couldn't have done it without them."
Warman said "This settlement exposes Icke's argument that no one had ever sued him because his allegations were true as nothing more than a fallacy." He added, "My reputation has been entirely vindicated. David Icke's attacks against me were disgraceful and beyond the pale but he's paid a heavy price for them and I trust this will never happen again."
Warman closed quoting Monty Python, "He's not the Messiah, he's a very naughty boy."
www.richardwarman.ca
Play that funky music
Agnostic Front – For My Family – NYC here we come!